PERCUSSION ENSEMBLES
by Edward Freytag
FANFARE & ROMANCE
Medium-Grade IV / Players: 4 / $25.00
"Fanfare and Romance", written for an advanced junior high or young high school percussion quartet, will make a great small group statement in your next percussion ensemble concert or solo and ensemble competition. The drums-only regal introduction and opening setting will immediately grab the attention of your audience through dynamic contrast and interesting rhythmic motifs that definitely say fanfare. The middle section beginning at letter C with its ostinato marimba line will easily be recognized as the beginning of romance. The floating timpani melody accompanied by chimes aides in the development of the romantic section. Letter E leads us through imitation right back to a recapitulation of the opening fanfare that closes the composition like well-placed bookends. Don't hesitate to add a little "Fanfare & Romance" to your concerts and events.
2017 RowLoff Productions
VESUVIUS
Medium-Grade IV / Players: 5 / $35.00
"Vesuvius" is best known as an active volcano near Naples, in southern Italy, that buried the towns of Pompeii and Herculaneum in AD 79. The mountain's very name still evokes thoughts of unbridled power during activity and yet can still create a feeling of quite peace when dormant. This new percussion quintet written for advanced middle school to young high school musicians captures within its' measures the contrast between the peace and power of this magnificent mount. The opening driving tempo with its' contrapuntal percussive voices brings to mind the gradual awakening of "Vesuvius" as it prepares for eruption. The middle section at B diminishes in anger but still contains intermittent rumblings as eruption becomes eminent. Eruption occurs with a unison crescendo at D and then subsides with some rhythmic hints of reoccurrence. Letter E brings us to dormancy...but only for a moment. The layered fugal buildup brings us once again to an eruption...and then without release, we experience a contrapuntal recapitulation at letter F that brings the ensemble to its final explosion! Guaranteed to be a powerful moment in your concert, have your students and audiences experience "Vesuvius"!
2016 RowLoff Productions / State Lists: MO
BRAZILIAN DREAMS
Easy Medium-Grade III / Players: 7-9 / $35.00
"Brazilian Dreams" is an easy-medium Bossa Nova written for 7-9 performers that is based off of a popular Joe Henderson jazz standard. The piece features in solo passages (all notated, but open to improv if desired) the congas, timbales, and marimba. Basic instrumentation is bells/chimes, vibes, marimba (or xylo), bass guitar, drum set, triangle/congas, and concert bass drum/claves/timbales. Dreams is accessible to middle school and young high school ensembles and uses interesting jazz chord voicings usually not heard in easy-medium pieces. If you're looking for a cool groove moment in your concert, "BrazilianDreams" is the piece for you!
2015 RowLoff Productions
ELYSIUM
by Edward Freytag & Trey Cokeroft
Advanced-Grade VI / Players: 17-20 / $50.00
"Elysium" is defined in Greek mythology as the abode of the blessed after death. Each life lived can be thought of as simply a journey from birth to Elysium. Each journey, as unique as it may be, shares two similarities...moments of peace and harmony and moments of distress and discord. Some feel that even in moments of stress, the peace and harmony is still present but gets overshadowed by the discord. This piece co-written with Trey Cokeroft for large percussion ensemble represents that journey. Beautiful harmonies and melodies throughout with a cohesive element of groove underneath exudes the peace of still waters in our lives while the underlying rudimental statements made by the drummers appearing from time to time lead to dynamic impact points that bring to mind those times of turmoil when our lives seem to be out of sync. The final moments of the composition are free of discord and truly peaceful as are our final breaths as we pass to Elysium. For a serene, reflective moment in your concert, make "Elysium" a part of your presentation.
2014 RowLoff Productions
BEAT 70
by Pat Metheny & Lyle Mays / arr. Edward Freytag & John Hearnes
Advanced-Grade VI / Players: 10-11 / $55.00
If you're looking for a grooving contemporary jazz piece for your percussion ensemble show, look no further! "Beat70" will showcase not only your ensemble and rhythm section, but your soloists as well. Complete with transcribed Pat Metheny and Lyle Mays solos, 70 also provides the opportunity for improvisation on a grand scale with sections designed to be "opened up" for as many soloists as you would like. This co-write with John Hearnes will work anywhere in your program...a stellar concert opener...a middle of the show heater...or a screaming closer to the production. Your students will definitely dig the "vibe" of "Beat70".
2012 RowLoff Productions
BEAST MODE (marching ensemble feature)
by Edward Freytag & Trey Cokeroft
Advanced-Grade VI / Players: ensemble discretion / $55.00/ $75.00 (with tutor CD)
"Beast Mode" is an original co-write composition with Trey Cokeroft featuring driving multi-metered passages and aggressive front ensemble lines and impacts. Beast works great as an introductory piece for a larger marching band work or as a set-up piece for an aggressive percussion ensemble composition. Filled with fascinating stickings and visual tricks,"BeastMode" will prove to be a "hotspot" in any concert or marching band show.
2012 RowLoff Productions
PORGY & BESS
George & Ira Gershwin / arr. Edward Freytag
Advanced-Grade VI / Players: 11-13 / $45.00
Based on the excerpt xylophone solo from the "Porgy& Bess Overture" by George Gershwin, this advanced piece is a keyboard showcase that will leave both players and audiences saying "wow"! Hot tempos, advanced stickings, myriads of styles and showmanship galore...this will be a favorite on any percussion program as an opener or a terrific closer. The solid combinations of classical, bluegrass, funk and salsa through the composition will give all players a diverse musical experience from beginning to end. Combine all of the musical elements with a little razzle-dazzle (players not looking down at the keyboards in the final section of the piece) and you will have a show-stopper. If only George could hear this version!
2011 RowLoff Productions / State Lists: NY, TX
CLASSICLE (contained in the RLP package JAMSICLES)
Easy-Grades II to III / Players: 6 / $85.00 (collectionof 8 percussion ensembles)
"Classicle" (writtenfor the RowLoff "sicles" collections) will prove to be an entertaining program piece for any middle school or young high school percussion ensemble concert. Designed to be a "name that tune" musical statement, the piece features themes from composers such as Beethoven, Mozart, Rossini, Handel, Holst, and Vivaldi. The themes are interwoven with each other to create a fun montage of music history. Challenge your students and your audience to name that tune when performing and listening to "Classicles".
2011 RowLoff Productions / State Lists: NY
MI NOMBRE ES AMADEUS
Wolfgang Amadeus Mozart & L.V. Beethoven / arr. Edward Freytag
Easy-Grade II / Players: 10-11 / $35.00
"Mi Nombre es Amadeus" is a fun, tongue-in-cheek, Latin styled ensemble based on the themes of Wolfgang Mozart with a sprinkling of L.V. Beethoven. Cha-Cha and Samba are the musical vehicles that launch this program piece forward. Complete with a smidge of comic narration, Mi Nombre will be a pleaser in any middle school or young high school percussion ensemble show. Guaranteed percussive fun..."Mi Nombre es Amadeus".
2008 RowLoff Productions / State Lists: FL
FLIGHT TO TURKEY
Nicolai Rimsky-Korsakov / arr. Edward Freytag
Advanced-Grade VI / Players: 13 / $50.00
Want a standing ovation...? This is the piece for your percussion ensemble concert! Based on the popular melody by Nicolai Rimsky-Korsakov (Flight of the Bumblebee),"FlightTo Turkey" amalgamates the traditional Romantic period theme with Turkish percussion stylings that will have the audience "bellydancing" in the aisles. Featuring a vigorous xylophone solo and a demanding keyboard trio, Flight takes the listener on an exotic journey through rhythmic Turkey supported by a percussion septet that musically dances in the street of the marketplace. Following an expressive xylophone cadenza, the ensemble returns us home with a closing statement that one can only describe as "jetspeed". The audience will be on their feet demanding an encore, so keep the Flight on the runway...the trip may not yet be over. Fasten your belts for the "Flight To Turkey".
2007 RowLoff Productions / State Lists: FL, NY, TX
CUBAN CONCERTO (rudimental snare drum solo w/ percussion ensemble)
Advanced-Grade VI / Players: 10-13 / $45.00
Written in the style of the fiery Afro-Cuban salsa bands in Cuba and Miami,"CubanConcerto" is an advanced innovative piece featuring a solo rudimental snare drummer and Latin percussion ensemble. The styles of guan-guanco and merengue serve as the musical vehicles for this musically and technically demanding composition. "CubanConcerto" will definitely be a show-stopper as it features contemporary rudimental content in the snare book and complex ensemble work by the Latin percussionists. The cadenza for the snare soloist could well be the highlight of the program! Put on your dancing shoes and get your salsa groove with "CubanConcerto".
2005 RowLoff Productions / State Lists: FL, NY
LETTER FROM HOME
Pat Metheny / arr. Edward Freytag
Medium-Grade IV / Players: 12-14 / $35.00
Nothing makes us feel better than to receive word from family or friends...it reconnects us to parts of our lives that sometime sit on the back burners...lost in our frantic daily routines. This arrangement of the beautiful Pat Metheny ballad, "LetterFrom Home", paints a warming musical portrait of the emotions stirred when a brief heart-warming communication comes our way that makes us pause and reflect. The combinations of warm marimba passages and sparse metallics that so well represent the sounds of Pat's guitar and Lyle Mays' keyboards brings the haunting Metheny melodies to life. The give and take of tempo and the rise and fall of dynamics assists even further with creating the shifting emotions of the moment. A great middle of the concert statement,"LetterFrom Home" will give your audience a chance to reflect on what they personally feel when word comes their way. Emotion at its best..."Letter From Home".
2005 RowLoff Productions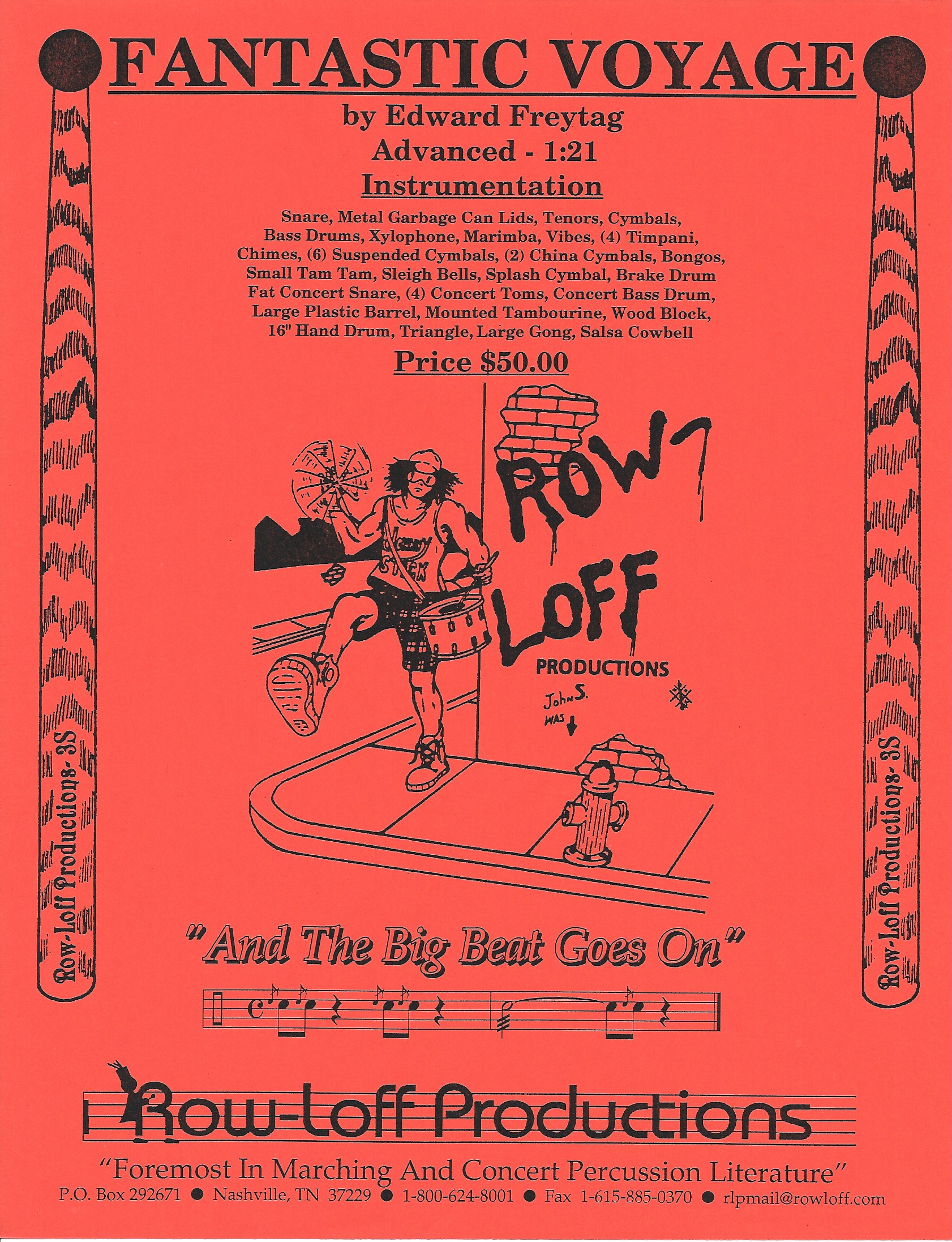 FANTASTIC VOYAGE (in search of the deity / marching percussion feature)
Advanced-Grade VI / Players: ensemble discretion / $55.00/ $75.00 (w/tutor CD)
"Fantastic Voyage" is an advanced marching percussion piece written in the most current style of indoor drumming featuring elements of Jazz and Celtic music. Laced with odd meters, flexing tempos, and interesting timbres, Voyage will be a challenging addition to any indoor program. One will find that the piece works great either on the gym floor or in the concert hall. Fasten your belts...take the trip,"Fantastic Voyage".
1997 RowLoff Productions
DEATH BY OOOGA BOOGA
Medium Advanced-Grade V / Players: 10 / $45.00
This original African novelty piece dedicated to musical friend, Dale Hutson, for advanced percussion ensemble features solo work for concert snare, temple blocks, timpani, concert bass drum, and congas. Creative writing for timbres such as bamboo logs, water gong, and vocal chants leads to an exceptionally entertaining piece for any program. Choreography and costuming for the performance is highly suggested to bring the piece to life and to give the audience a rhythmically musical experience that they will not soon forget. Get ready for the safari trip..."Death By Oooga Booga" will take you there!
1996 RowLoff Productions / State Lists: IN
BRANDENBERG CONCERTO NO.2
J. S. Bach / arr. Edward Freytag
Medium Advanced-Grade V / Players: 10 / $45.00
This advanced percussion ensemble arrangement of one of J. S. Bach's most notable Concerto Grosso compositions will add a touch of the Baroque to any percussion concert. Great as a competitive festival piece,"Brandenburg Concerto No. 2" will showcase your players in both a very musical and technical fashion. Arranged using two of Bach's most recognizable sections from Concerto No. 2, the Brandenburg will have even the most non-classical listeners immersed into the concert. Enjoy the stylings of J. S. Bach at his best.
1995 RowLoff Productions / State Lists: AR, IN, VA
THE ENTERTAINER
Scott Joplin / arr. Edward Freytag
Easy-Grade II / Players: 6-8 / $35.00
This Scott Joplin pre-jazz classic is a great style piece for the young percussion ensemble. It works well as a program opener or a mid-concert light hearted toe-tapper. Achievable by the middle school percussion group,"TheEntertainer" is a great introduction to rag time styles for the younger performer...definitely an entertaining piece.
1994 RowLoff Productions / State Lists: FL, OH, TX, VA, WI
SMACKIN' THE GROOVE (marching cadence contained in RLP's World's Greatest Cadences)
Medium Advanced-Grade V / Players: ensemble discretion / $40.00 (collectionof 6 cadences)
Need a funky cadence? "Smackin'The Groove" is the piece for you! Contained in the World's Greatest Cadences collection, Smackin' will have your percussionists and your band marching to the beat of a different drummer. Feature sections are built in for each element of the battery making this piece a nice way to showcase the chops of your players. Keep it smackin'...the fans will love it!
1993 RowLoff Productions
SOME SKUNK FUNK (marching percussion feature)
Randy Brecker / arr. Edward Freytag
Advanced-Grade V / Players: ensemble discretion / $55.00/ $75.00 (w/tutor CD)
If you want your drum line to sound funky, "Some Skunk Funk" is the piece for you. Written for marching percussion, this feature piece is a rendition of the well-known Brecker Brothers funk classic. Although classified as an advanced composition,"Some Skunk Funk" is playable by most contemporary medium level drum lines. Get your groove on at every performance when your line is pumping out "Some Skunk Funk".
1993 RowLoff Productions
State Lists: IN
THE EASY WINNERS (keyboard quartet)
Medium-Grade IV / Players: 4 / $20.00
This Scott Joplin piano rag is a rhythmic extravaganza from the ragtime idiom arranged for three marimbas and a solo xylophone. Arranged in the style of George Hamilton Green, the piece can be challenging for high school performers and yet be achievable by advanced middle school musicians. A great concert piece as is,"The Easy Winners" can be enhanced by the addition of snare drum and bass drum or drum set to lift the rhythmic drive throughout."The Easy Winners" can be an outstanding show opener or mid concert statement. Wherever placed in your program, you are guaranteed to have the audience tapping their toes with smiles on their faces.
1992 RowLoff Productions
State Lists: FL, GA, IN, MO, NY, TX, VA, WI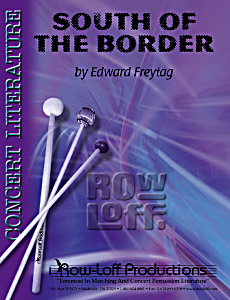 SOUTH OF THE BORDER
Easy-Grade II / Players: 6-8 / $30.00
"South of the Border" is a program piece for young percussion ensembles based on Latin American themes. Complete with a Paso Doble bullfight,"South of the Border" proves to be a crowd pleaser on any program. Enjoy the trip as the percussion ensemble takes you on an excursion through Latin America.
1992 RowLoff Productions
State Lists: FL, GA, MO, OH, TX, VA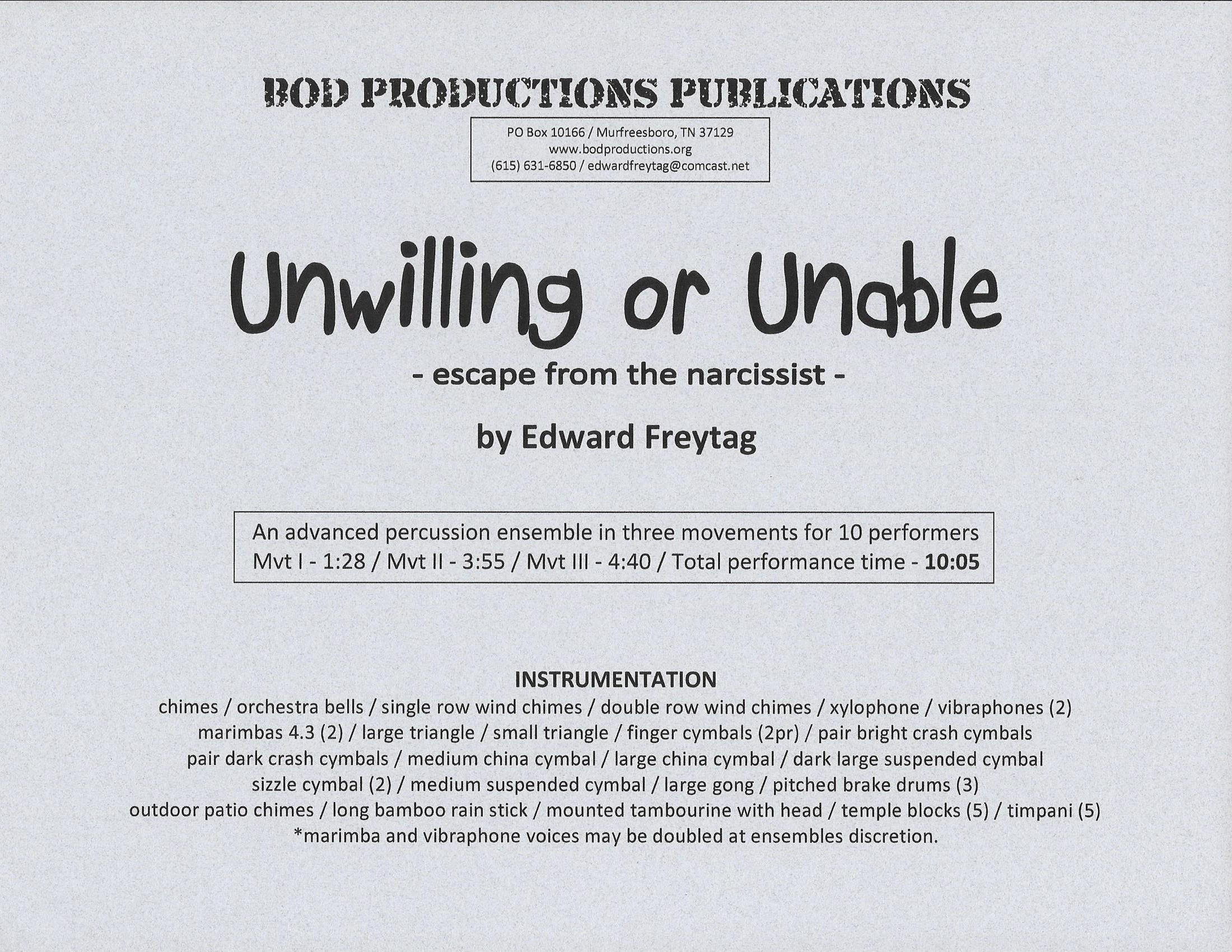 UNWILLING OR UNABLE (escape from the narcissist)
Advanced-Grade VI / Players: 10 / $55.00
"Unwilling or Unable" is a thrilling new composition written for an ensemble of 10 performers that documents a three movement journey of escape from oppressive narcissism. Based on personal experiences, the piece features contemporary harmonic and rhythmic structures that challenge the ensemble at every turn. A variety of timbres and textures, moods and emotions, and harmonies and rhythms provide a very interesting pallet for the listener/observer. Victory through escape is achieved at the conclusion with a beautiful hymn-like statement that will be like an aural breath of fresh air! "Unwillingor Unable" will be a great addition to any serious concert presentation!
Structured in three movements with a variety of subsections...
MVT I the first day / they are the enemy / big brother is watching
MVT II unrest / the exodus / one by one
MVT III dreams of the escape / flight / freedom
2015 BOD Productions / Maxwell Tree Music