BOOKS & COLLECTIONS
by Edward Freytag
THE RUDIMENTAL COOKBOOK (25 rudimental snare contest solo)
Also contains works by Mike Lynch, Stacey Duggan, and Jon Whitlock.
Easy to Extremely Advanced / Players: 1 / $20.00
"The Rudimental Cookbook" is the definitive statement in rudimental contest literature and methodology containing 25 state-of-the-art solos from easy to extremely advanced. The Cookbook also contains a detailed listing of the 26 American Standard rudiments, the PAS rudiments, and one of the first and most accurate listings of hybrid rudiments characteristic of the drum corps vocabulary. And on top of that, the book contains exercises designed to develop techniques needed for success on various aspects of the solos. One of the best-selling and highest regarded rudimental texts in existence,"The Rudimental Cookbook" will fill the needs of all developing rudimental drummers from the beginner to the professional educator.
1994 RowLoff Productions / State Lists: IN, MO, TX
JUST DESSERTS (The Rudimental Cookbook, volume 2 / 25 rudimental contest solos)
Also contains works by Mike Lynch, Stacey Duggan, Dennis Delucia, Matt Savage, Dustin Schletzer, Derek Schletzer, Mickey Burmer, Jonathan Morrell, John Maines, and Stacy Stokes Waites.
Easy to Extremely Advanced / Players: 1 / $20.00
"Just Desserts" is the"new" definitive statement in rudimental drumming and methodology and the companion text to The Rudimental Cookbook. Containing 25 contest solos, complete rudimental listings, and technique exercises,"Just Desserts" goes beyond the scope of The Rudimental Cookbook by expanding the beginning level solos to better accommodate the young player and raises the bar on the extremely-advanced solos to further challenge the upper level performer. Don't miss this great addition to the rudimental world......Just Desserts.
2002 RowLoff Productions / State Lists: FL, IN, MO, OH, TX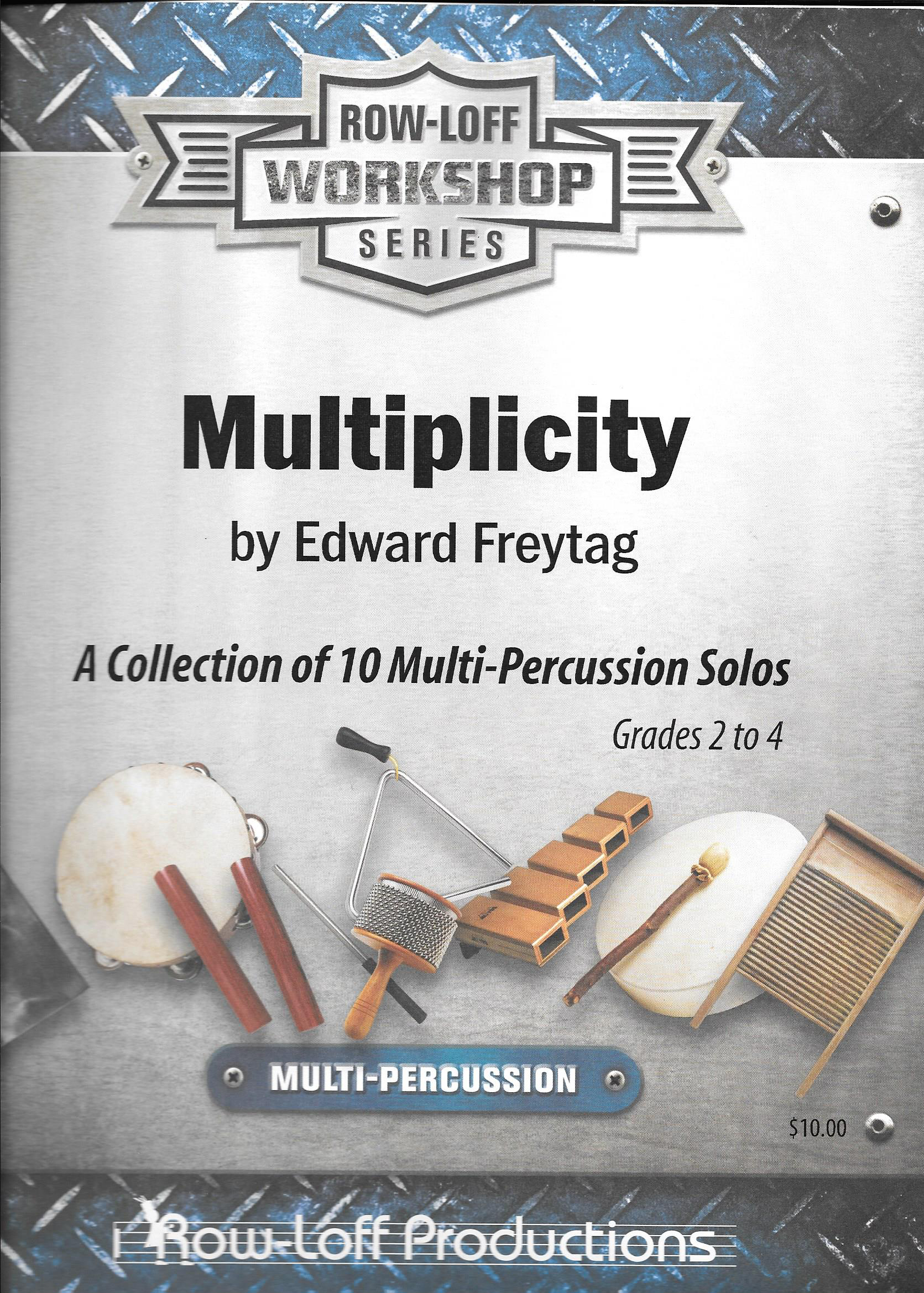 MULTIPLICITY (collection of 10 multi-percussion solos)
Easy to Medium - Grades II to IV / Players: 1 / $12.00
"Multiplicity", is a collection of multi-percussion solo pieces for the younger musician. Written at the easy to medium level, the solos in the collection are a step towards filling a gap in the percussion literature world. Creative multi-percussion solos at this level that are rhythmically, stylistically, and formally well composed and are challenging yet fun are difficult to find. Although there are ten compositions, only four different set ups are needed to perform the book making it easier for smaller music programs to provide adequate instrumentation. And if necessary, all of the compositions can be performed using set-up four! Do you need to feature one of your students on a middle school to young high school percussion program? If so, "Multiplicity", is the collection for you.
2013 RowLoff Productions / State Lists: MO, NY, OH, TX
THE ORCHEMENTAL SNARE COLLECTION (collection of 8 concert snare solos and 4 duets)
Easy to Medium - Grades II to IV / Players: 1-2 / $12.00
This new collection from the musical stylings of Edward Freytag and Keith Dudek contains 8 concert snare drum solos and 4 duets utilizing both orchestral and rudimental elements. The pieces in Orchemental are composed for the young to intermediate percussionist and are written between grade levels 1+ and 4+. These solos and duets are designed to give the players opportunities to use a variety of different implements and playing surfaces. They can be performed on any type of snare drum desired but are recommended for concert snare. As in all of our compositions, head types and tunings are recommended in the text of the collection; however, the performer(s) should feel free to use heads and tunings of their own choosing."The Orchemental Snare Collection" will be great material for any percussion concert or solo/ensemble event! From the both of us...enjoy!
2016 RowLoff Productions / State Lists: MO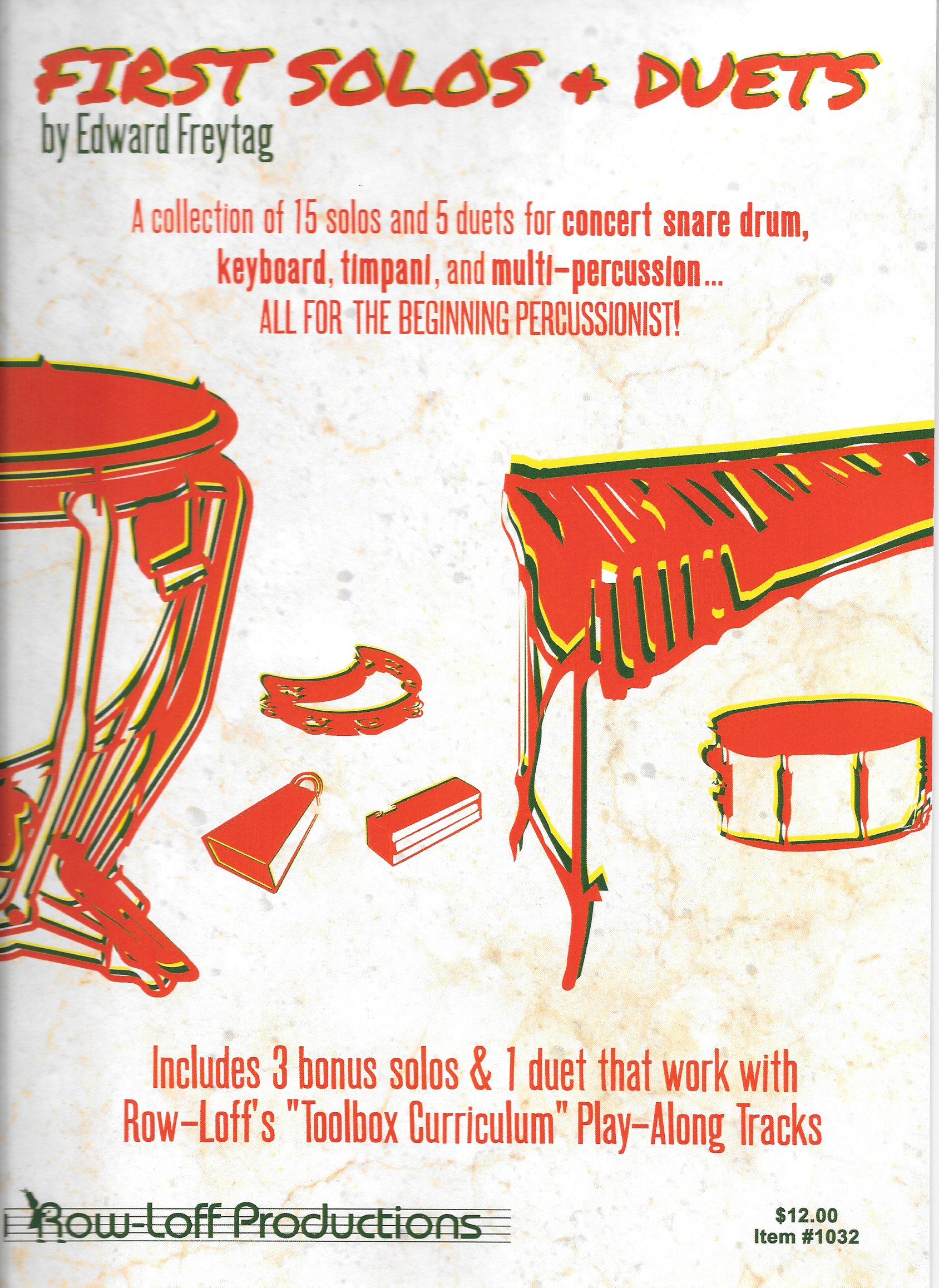 FIRST SOLOS AND DUETS (COLLECTION OF 15 SOLOS AND DUETS FOR CONCERT SNARE, KEYBOARD, TIMPANI, AND MULTI-PERCUSSION)
Easy - Grade 1 / Players: 1-2 / $12.00
This collection, from the compositional pen of Edward Freytag, contains 4 concert snare solos, 4 keyboard percussion solos, 3 timpani solos, 4 multi-percussion solos, 1 snare duet, 1 keyboard duet, and 3 mixed duets…all Grade I for the true beginning percussionist! Four of the compositions are compatible with the RowLoff Productions' "Toolbox Curriculum" play-a-long mp3's that are downloadable for FREE with the purchase of the book! Designed for players with approximately one semester of training, these pieces are musically entertaining and pedagogically sound for performers and audiences alike. Get your beginners on stage early with "First Solos & Duets"!
2018 RowLoff Productions